There are a few reasons you might want to rekey or change your locks. You might have had a recent security issue, like a break-in or a recent breakup. Perhaps you've just bought a new home, car, or new building, and you need to change who has access to your property. Then again, it might be that the locks on your car, home, or on your business are simply old and beginning to wear out through use.
At that point, you have to make a decision. You need to understand the difference between rekeying vs. changing locks. Rekeying vs. changing locks may represent a dramatic difference in cost. Additionally, changing locks or rekeying them will also cause different amounts of inconvenience. It will also impact the level of security of your property.
Really, this isn't a question of which is better. It's just a question of which is better for your home, car, or commercial property.
We'll lay out a few pros and cons of rekeying vs. changing locks. First, here's a general explanation of the difference between changing locks and rekeying them.
Rekeying vs. Changing Locks
The difference between changing locks and rekeying them, at first glance, looks like a difference in effort.
In order to be rekeyed, the lock needs to be dismantled. Once dismantled, then the tumblers of the lock have to be adjusted in order to fit the teeth of a new key. This process requires specialist tools. Rekeying a lock is meticulous, and getting it wrong may prevent the new key from turning and unlocking the lock.
As opposed to the process of changing a lock. To change a lock, all that is required is removing the old locks from the doors of a car, home, or commercial property. When they have been removed, then the new locks can be installed.
Changing a lock sounds like a simpler process than rekeying one. For that reason, you may feel tempted to replace your locks every time.
There are complexities, though. Like the initial cost of your security system. It might be more economical to rekey rather than replace an upper-end set of locks. Also, if your property has very few locks, it might make more sense to have your locks rekeyed. If your commercial property has a lot of locks, though, it may be far more economical to have all the locks replaced instead of rekeyed.
It depends on the details of your security needs.
For the sake of argument, we'll go through some of the pros and cons of rekeying vs. changing locks for several types of properties. The arguments will be different for cars, residential properties, and commercial properties
Rekey vs. Replace the Locks of a Car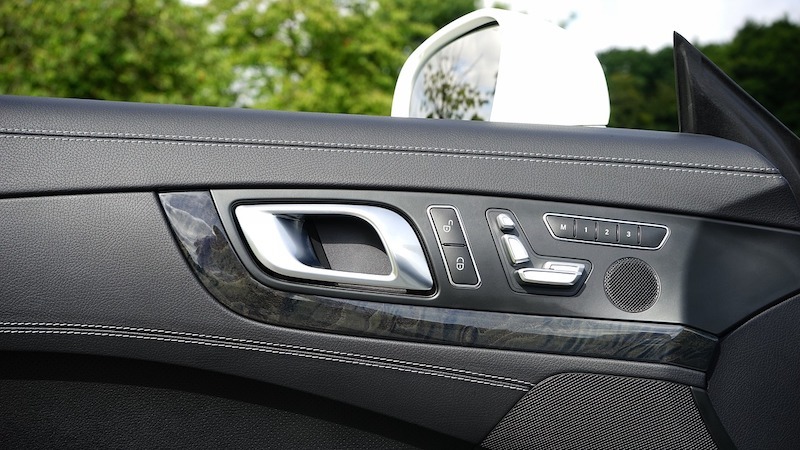 Choosing between rekeying or replacing the locks in your car will depend on a few factors.
The age of the car is a significant factor. For the sake of argument, let's assume that you have a car with locks that unlock with a physical key.
The first few steps in both processes will be the same. You need to dismantle every door on the car that has a lock that requires a key to unlock it. Next, the locking mechanism will have to be removed.
At this point, the processes diverge.
If you are replacing the locks, you're half done. You can put new locks in, and move on to reprogramming the radio locking system.
However, if you are rekeying a lock with a physical key, then at this point you will need to dismantle the lock, reset the pins, and then re-install the lock in the door and reassemble the door panel.
Many modern cars don't even come with physical locks. Keyless locking systems are becoming more and more common in cars. Keyless locking systems may be relatively new, but keys with radio transponders are old technology. Cars have included keys with programmable microchips for decades.
For that reason, even if you replace your locks, you still need to rekey your locks. It's just that you need to rekey them digitally.
A keyless locking system can be replaced. However, it is more likely to be rekeyed. Rekeying a keyless locking system involves reprogramming the key and the car to respond to different transponder signals.
Choosing rekeying vs. changing car locks probably depends on the age of your car. It's usually more economical to replace the locks of old cars. New cars, with keyless locking systems, will probably need to be rekeyed. (AHS)
Rekeying vs. Changing the Locks on Your Home
When it comes to deciding between rekeying or replacing the locks on your home, you will take into consideration a few factors. It will depend on the complexity of your locks and the expense you took to install your security system. (Angi)
A more complex, more expensive set of locks on your home may justify rekeying your locks rather than changing them. Especially if your home security system includes features like automatic locks or a keypad locking system. In that case, rekeying may be more economical than changing your locks.
On the other hand, if you live in a condo with only one or two doors, and you have a simple lock with a key, then replacing your locks will probably be a cheaper option.
Rekey vs. Replace the Locks on Your Business
Many considerations for changing vs. rekeying the locks on your business are similar to details that matter for your home.
You need to consider the value of the inventory you keep at your place of business. In the event, for example, of a break-in, the quality of your locks will be a consideration in any insurance claim.
When deciding whether to rekey or replace your locks, consider the expense and complexity of your existing locks. If you have a lot of locks and a lot of staff using them, you might find it more economical to replace your locks.
For businesses with only one or two doors and fewer staff members, rekeying locks might solve your security problems.
Which Will You Do?
Do you need to rekey or change your locks? It's an important question. It will have an effect on the security of your car, home, or business, and as a result on your peace of mind.
Before you commit, getting the opinion of an expert can help grant you that peace of mind. Feel free to reach out to us with questions about rekeying vs. changing your locks. Our mobile locksmith will happily assist you.
With a 4.8 star rating, Crown Locksmith is a trusted Atlanta locksmith. We would be happy to consult with you in your decision-making process when you choose between rekeying or replacing your locks. Contact us today!
You May Also Like:
How Does A Master Key Work