The ADA, or the Americans with Disabilities Act, outlines clear and specific requirements for designing accessible entrances for commercial spaces. While ADA-accessible entrance requirements were created to make it easier for the disabled community to enter commercial spaces, there are other benefits to ADA-accessible entrances as well. For example, automatic and easy-to-open doors are beneficial for people pushing strollers and furniture dollies.
Regulations for new builds require ADA-accessible entrances, requiring either push-button door openers or easy-to-use handles. Many older buildings are subject to regulations, which require them to update their entrances to comply.
Ensuring the entrances to your commercial property comply with ADA requirements is important because failing to do so may put you at risk of incurring government fines. At the same time, there are plenty of upsides to ensuring the entrances of your property fulfill ADA accessible entrance requirements.
ADA Accessible Entrance Requirements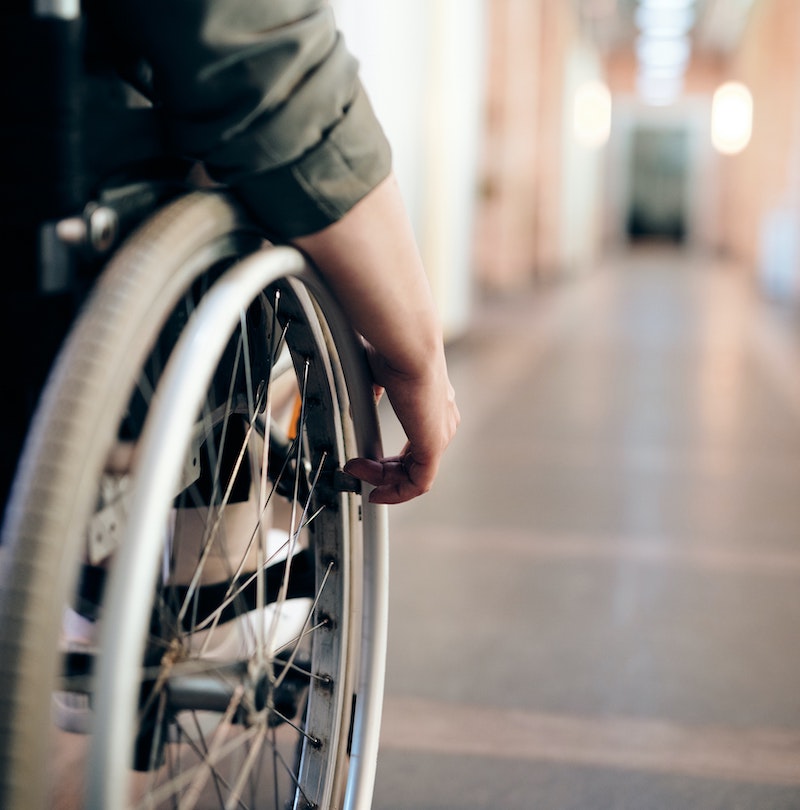 ADA Requirements for Doors
What is the ADA requirement for doors? There are basic ADA requirements for doors that dictate everything from the amount of clearance to how fast an automatic door closes.
ADA requirements dictate that, in order to be fully accessible, an entrance has to be (Access-Board):
At least 32 inches wide when the door is fully ajar.
Swinging doors have to open at least ninety degrees.
There must be at least 80 inches of unobstructed clearance in front of the door.
Door thresholds cannot exceed either a ¼ of an inch if square or ½ an inch if beveled.
Recessed doors can be recessed to a maximum of 8 inches.
Door handles must allow one-handed operation, they must not require a tight grip, and the maximum force the handle can take is 5 pounds of force. The handles have to be between 34 and 48 inches off the ground.
The opening force to push the door open cannot exceed 5 pounds of force.
Meeting the ADA requirements for doors is specific and clear. It will, however, improve the accessibility of your commercial spaces for everyone.
Another point to consider is accessibility to the door itself. If you have to install a ramp in order to provide wheelchair access, there are ADA requirements for the slope of that ramp. The ADA requires ramps to be built according to a 1:10 ratio. That means for every one unit a ramp has to rise, it has to have a ten unit long run. So if your ramp has to rise one foot, then it has to be ten feet long. (ADA)
Do All Doors Need to be ADA-Compliant?
The answer is no, not all doors need to be ADA-compliant. But almost all doors do. Doors that don't require full passage, such as the door to a shallow closet, do not need to be ADA-compliant at all. Also, so long as at least sixty percent of the doors of a commercial space are ADA-compliant, the rest of the doors are not required to comply. Although, when building a new commercial space or updating an existing one, it may be practical to simply make all doors ADA-compliant.
ADA Push Button Door Opener Requirements
ADA push button door opener requirements are fairly simple to understand. Some entrances will need automatic doors that are opened with a push button or motion-activated system. In addition, ADA automatic door opener requirements include sufficient maneuvering clearance. The door must remain open for long enough to permit a wheelchair to pass through and the door must close slow enough that it won't crash into someone passing through. (ICCSafe)
While not every entrance to a commercial building has to comply with ADA push button door opener requirements, some entrances to commercial buildings do. Exterior entrances, in most cases, will have to comply with ADA push button door opener requirements. (AutoDoorHardware).
Get ADA Hardware Access
When setting out to ensure that the entrances on your new build or your existing commercial property comply with all ADA requirements, it's important to work with partners you can trust.
Crown Locksmith is an Atlanta-based locksmith that installs entry systems compliant with ADA regulations. You can trust us to stay up-to-date with the most recent developments in ADA requirements. Make your business ADA compliant with compliant locks, handles, pulls, exit devices, latches, and more.
Contact us today with any questions about our commercial locksmith services. We are happy to answer any questions you might have about the specific needs of your commercial property when it comes to bringing your entrances into compliance with ADA accessible entrance requirements.
You May Also Like: